Enjoying your vacation?
Are you really??
Do you need a Go Kart trip to spice it up? Check out this list of the best go kart tracks in South Padre Island, Texas!
Go Kart racing is the building block for all motorsports. You will learn hard work, patience, determination and racing skills that will set you up for success in the future.
On Better Karting you can learn how to set up your go kart and why certain chassis adjustments have the effect they do. Search all of my racing tips here to learn more!
Go Karts South Padre Island, TX
Go Karting is a family sport. A sport that should be enjoyed by all. Whether you are 3 years old or an adult there is a go kart for you!
1. Gravity Park
Pricing
Single Go Karts – $15
Double Seater Go Karts – $20
Hours
Monday: 6 PM – 10 PM
Tuesday: 7 PM – 12 AM
Wednesday: 9 AM – 10:30 PM
Thursday: 6 PM – 10:30 PM
Friday and Saturday: 6 PM – 11:45 PM
Sunday: 6 PM – 10:30 PM
A place like Gravity Park is great for your next date. Go Karts, Rides and Games!
Requirements to Race
Be sure to tie up long hair
Avoid Baggy and Loose fitted clothing
Closed toed shoes would be beneficial
Unsure of what to wear? Click here to learn what to wear when go karting!
Gravity Park – Best Go Karts South Padre Island
For the best go karting experience while in South Padre Island you need to visit gravity Park.
The go karts are gas powered and the track is a wild multi-level wooden track that has the feel of an old wooden roller coaster. A lot of people never experienced a wooden roller coaster, but they were known for the clamoring noise and bumpy ride which was really fun.
The entire park is great for family fun. The go karts are just the beginning. There is so much fun to be had at a place like Gravity Park. Check out their Facebook page for some really fun pictures of Gravity Park.
2. Island Fun Park
Location: 1201 Padre Blvd, South Padre Island, TX 78597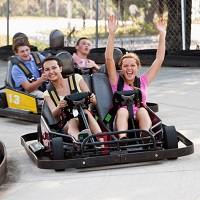 Pricing
Single Go Karts
15 Minutes – $25
20 Minutes – $30
25 Minutes – $35
30 Minutes – $40
Double Go Karts
15 Minutes – $30
20 Minutes – $35
25 Minutes – $40
30 Minutes – $45
Hours
Monday – Thursday: Closed
Friday – Sunday: 11 AM – 12 AM
Island Fun Park – Go Karts South Padre Island
Looking for a fun family outing on your San Padre Island Vacation?
Island Fun Park is the perfect place for the family to head over and have some fun. With the double seater go karts even little kids can ride along for fun!
The traditional oval shaped track is a little vanilla but can produce some really exciting racing. Given the simplicity of an oval track drivers will be more competitive, resulting in a more exciting race.
There are always food trucks around to give you something to snack on while you are there. Once you are all finished racing you can hop over to the mini golf course for some more fun over there!
Don't forget about the other activities Island Adventure Park has to offer. You can go horseback riding, Ziplines, parasailing, Petting Barn, Banana boat Rides and for Mama a Massage!
Is Go Karting a Good Date Idea?
Absolutely, Go karting is a fun exhilarating and challenging sport.
You and your date will have an amazing time racing go karts around the track and inspiring a little bit of that competitive spirit.
Go Karting can be a physical sport! If you and your date are not feeling up for a little physical activity than maybe you need to go play bingo or something like that.
Can my kids race go karts?
They sure can!
The biggest challenge for kids will be their height.
Being tall enough to reach the pedals is important for safe control of the go kart. As important as it is to get the go kart moving by reaching the gas pedal you need to be able to stop the go kart as well with the brake pedal.
Another important fact about being tall enough is being able to push your back and but to the back of the seat.
Why?
This is important because you are able to create much more strength if you have the seat as a back stop. This strength is needed to turn the wheel and push the pedals.
Turning the wheel may seem hard while sitting on the grid waiting to race but once the go kart is moving steering is a breeze!
Go kart tracks will have a height restriction letting you know if you are tall enough . If you are tell enough per the track than you are good to go!