Check out the 5 Best Go Karts in Bosie, ID! From K1 Speed to Black canyon Speedway there are some serious racing to be had!
Black Canyon Speedway is where the real racers go to test their skills against the best around! If you want to get into the sport of go kart racing this is the place to be!
Top 5 Go Karts Boise
Go Kart Racing is a way of life!
It is a family sport that binds people together for a lifetime. Check out why this is and how you can start your own go karting journey today!
1. K1 Speed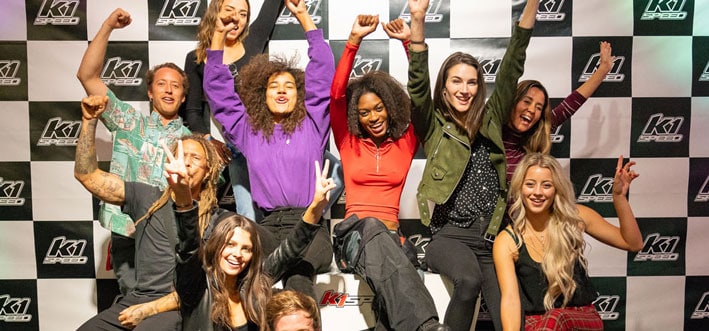 Your Venue for Fun Parties & Events in Boise – Meridian, Idaho – K1 Speed | K1 Speed
Hours
Monday – Thursday: 12 PM – 10 PM
Friday: 12 PM – 12 AM
Saturday: 10 AM – 12 AM
Sunday: 10 AM – 10 PM
Pricing
Best Deal!
Speedpass: $64.95 (2 Races, T-Shirt and Membership)
1 Race: $25.95
2 Races: $46.95
3 Races: $59.95
Requirements to Race
Junior racers must be 48″ tall
Adult racers must be 59″ tall
Always be sure to secure long hair. Tie your hair up or tuck it in your collar.
Closed toed shoes are REQUIRED
If you are unsure on what to wear when go karting, click here
K1 Speed- Indoor Go Karts Boise
K1 is a go karting powerhouse. Featuring some of the best indoor electric go karts in the country. Across the United States you can find K1 in most major cities. The product is very consistent city to city.
The go karts at K1 speed are as close as you can get to a real racing go kart. The speed, handling, and feel are amazing. The power of the 20 HP electric motors will suck you back into your seat and have you wanting more!
K1 uses all electric go karts.
No Fumes
No Gas
No Oil
No Refueling
Electric go karts are fast, quiet and just plain fun. One of the benefits when compared to gas engines is the torque. An electric motor is able to achieve maximum torque instantly while a gas engine has a powerband. Meaning a certain rpm range will produce maximum torque.
Additional Fun at K1
There is even more to do than go karts. You will find arcade games, tabletop games such as billiards or foosball.
2. Fast Lane Indoor Kart Racing
Hours
Mon – Thu: 12 pm – 10 pm
Fri: 12 pm – 11 pm
Sat: 12 pm – 8 pm
Pricing
Adult Racer: $19.95
Junior Racer: $17.95
If you plan on racing here frequently you should by the pit pass.
A pit pass cost $10 and is good for a year.
You will save $4 on each race you purchase!
Requirements to Race
Closed toed shoes are required
Adult karts require a drivers permit
Jr Racers must be 8 years old and 52″ tall
Fast Lane Indoor Kart Racing – Indoor Kart Racing Boise
Fast Lane is a not your slow family fun rental go-kart track.
These are real and super-fast!
The go karts are built by Sodi. Sodi is a very reputable go kart manufacture.
The engine is a Honda GX270 which is a gas-powered engine. These go karts will go up to 40 mph!
This type of go kart track is for older kids 8 and up. There are no two-seater go karts offered so bringing your child under 8 and 52″ may not be the best idea.
3. DirtKart Boise – CLOSED 😭
Hours
Mon – Sun: 10 am – 10 pm
Pricing
1 Race – $25
$5 for a full head sock. You are required to wear a head sock if using their helmet
Requirements to Race
Must be at least 56″ tall
Children under the age of 18 must have a parent to sign the consent waiver
Maximum weight is 285lbs
Dirt Kart – Indoor Dirt Go Kart Racing
DirtKart is probably the coolest go kart venue I have seen. Dirt racing is super fun. Sliding sideways drifting through the corners, beating, banging, door to door racing!
I think it is really awesome someone is capturing the beauty of dirt racing in an indoor rental go kart form.
Dirt racing may seem like an outdated, dirty, and rough form of racing. Well, some aspects of dirt racing are but there is a lot more to it.
DirtKart Go Karts
The go karts used are Sodi RT8 European built racing go karts. They have 13 HP engines and as DirtKart says "They are Fast"
If you get hungry at DirtKart there is pizza and other hot foods, you can choose from. Oh, and there is Beer!
Winning your Race at DirtKart
You need to be able to pitch the car into the corner and keep up as much of your momentum as possible. When you are sliding sideways you scrub a lot of speed, and you slow down. On the other hand, if you just try and turn the wheel you will not make the corner.
Finding the balance between sideways and too sideways is the key. Practicing on when to turn into the corner and when to get back into the throttle are techniques you will only learn by actually racing these go karts.
4. Wahooz Family Fun
Hours
Summer Months
Sun – Thu: 10:30 am – 10 pm
Fri – Sat: 11 am – 5 pm
For other times and off-season hours please check their calendar for the most up to date hours of operation
Pricing
$7.99 – Slick Track
$6.99 – Rookie Go-karts
$7.99 Driver / $3.99 Passenger – Go-karts
Requirements to Race
Go Karts – 58″ tall for driver and passengers must be 40″ tall
Rookie Go Karts – Must be 48″ tall
Slick track – Must be 58″ tall
Wahooz – Family Fun outdoor Go karts Boise
For a truly awesome family fun experience check out Wahooz!
There are three types of go karts and there is something for everyone. Between the rookie track, go kart, rookie karts, and riding as a passenger everybody can join in.
There are three different go kart tracks for each type of go kart offered.
After karting you will find many other great activities to have fun with. Check those out here!
Miniature Golf
Bumper Boats
Batting cages
Laser Tag
Laser Maze Challenge
Arcade
Bumper Cars
XD Dark Ride
The Twister
Ballocity
Clip 'n Climb
Ropes Course
Bowling
The Frog Hopper
Stop in a at either of the two restaurants for a quick bite to eat. Both the Stargazer Grill and Z Bar and Grill offer great food to round out the day.
5. Black Canyon Speedway
Hours
Racing from May – Oct
Check in on their Facebook page for the most up to date schedule and times.
Weather permitting
Black Canyon Speedway – Idaho Go Kart Racing
Go karting is all over this country. Even in Idaho. If the dirt is good for potatoes, it must be good for racing too!
Black Canyon Speedway is a 1/7th mile clay dirt oval.
They race go karts and other dirt cars at this track. A newer go kart to the game is the outlaw go kart. They have been around for some time now by they are gaining some popularity.
The outlaw go kart is a high horsepower, higher downforce, higher speeds, and just badass!
If you are in the Boise area stop out at Black Canyon Speedway and check them out.